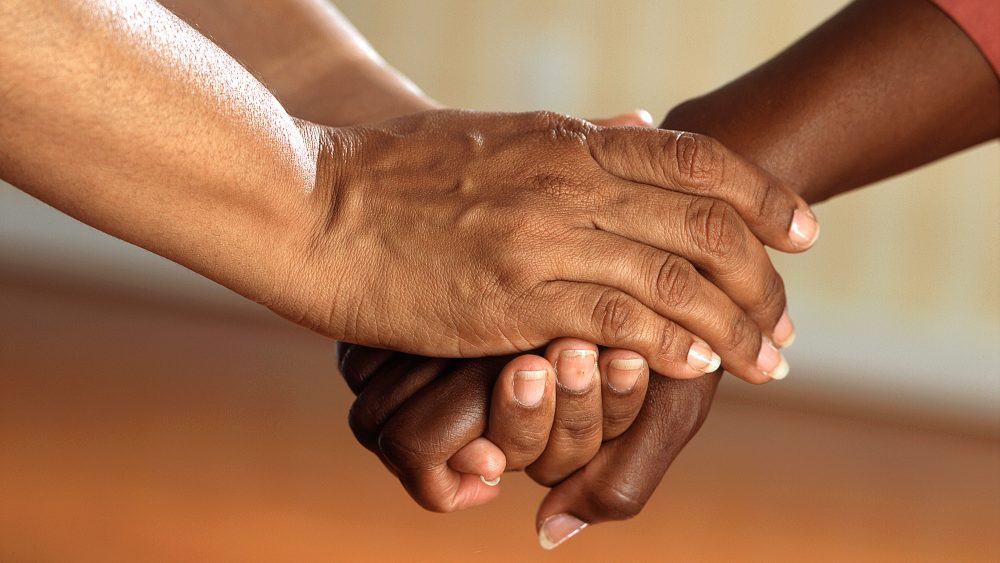 Maria Arpa
Maria's Midweek Mindfulness Moments
Getting the balance right between generating income and delivering the support to society's most vulnerable is the greatest challenge for any charity We have worked hard. We've found ourselves in a few cul-de-sacs in the process but it's paid off. We now have a model that works and a reputation that is valued at the highest level.
Last year we were delighted with the news that we'd been awarded a grant from the Cabinet Office's Local Sustainability Fund. This fund is only granted to a handful of small to medium-sized high-impact charities and ours was one of them. It's no exaggeration to say that this support has been transformative for us. We've learned a huge amount over the last year which has given us a really solid foundation for the future, positioning us to take the Dialogue Road Map (DRM) into the mainstream.
From the lessons learned along the way I want to share with you our top three lessons:
Developing A Diverse Mix Of Funding.
I knew that we couldn't become reliant on grant funding. Whilst it's an important part of our income, we also needed more consistent and regular funding.
We invested in building a reputable mediation business. The business now generates income and resources which supports the charity.

We developed and deliver our Dialogue Road Map (DRM) training courses.

We currently have two local charity shops and are expanding with the help of new funding from the Big Lottery Fund's Big Potential Fund. If you are interested in coming on board with this project contact us on [email protected]

All volunteers we take on will receive free training in the Dialogue Road Map.
All of theses income streams help to provide income which supports our work with people who fall through the cracks of society, like ex-offenders, prisoners and young people indoctrinated into gangs.
Where We Are Headed.
This year, we've applied for more contracts and have generated more income from individual giving, as well as applying to Trusts and Foundations. Our biggest challenge has been funding for our prison work. We've been surprised at how few major funders will support innovation in prisons. Thanks to the support of our private donors Allen Lane Foundation and Tedworth Trust, we've been able to start our work in HMP Dartmoor. We anticipate that the success of our work in Dartmoor will encourage other funders to see prisons as places of opportunity and change, not failure and shame.
Focus On The Priorities.
Focus on your priorities. This may sound obvious, but one of the benefits of the Dialogue Road Map is its applicability to almost any situation; we can't think of any areas of life where better relationships and communication don't matter. At the start of the year, we worked really hard to hone down our focus to three key areas –justice, education and families.
Building Networks
The Local Sustainability Fund has a particular focus on working in partnership with local businesses. When I began the charity I didn't ask for help and I ended up doing too much myself. I'm thrilled to tell you that CPS has now developed a wonderful partnership with Central St Martin's, whose students have volunteered with us and provided creative input to help us market our work and to fundraise. Through the Fund, we've also worked with a Business Adviser, who has helped us to develop clarity and structure in our income generation strategy.
One of the highlights of last year was our first major fundraising event, held at Central St Martin's and hosted by Rory Bremner. I was delighted and amazed by the way in which the wider CPS community came together in a creative way to achieve something which was greater than the sum of its parts. To pick just a few examples, prisoners at HMP Dartmoor made beautiful toy boxes and music boxes, which were then painted by artists.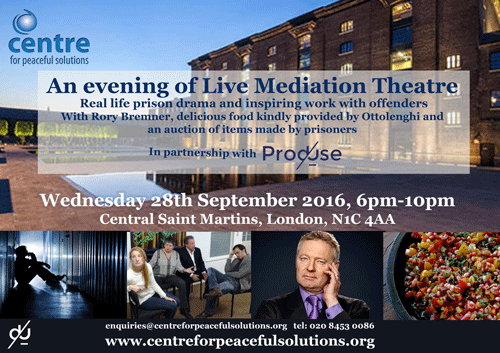 Royal photographe

r

and friend of the charity

Hugo Burnand

exhibited some wonderful photographs of Dartmoor prisoners.

Young actors from

Chicken Shed

performed a powerful theatre piece.

Ottolenghi

generously d

onated delicious food.
A small army of volunteers helped to host the event and Central St Martins gave us the event space. It was a practical demonstration of the Dialogue Road Map in action; people working together purposefully and compassionately, bound by a common vision.
Following on from this last point, if you feel moved by what we're doing, please do donate so that you can help to increase the impact of our work in schools, prisons and communities.  Or if you have time, we still need more volunteers to help run the office, support our marketing and communications, and help with fundraising.
We're enormously grateful to the Cabinet Office and Big Lottery Fund for their support over the last year and would love them to continue the scheme so that other small charities can benefit as much as we have. Sustainability's a journey, not a destination, so we can never stand still, but we feel much better prepared for the road ahead.
With love, light and gratitude. Maria Arpa -x-
As ever, running a charity means asking for help and support.

One thing you can do to help , is to tell others about our work so that we can spread the word. It would also help us greatly if you would post, repost, tweet and support us to get more subscribers.

If you have time to spare, or if you have an idea to share, or want to get involved please get in touch. We'd love to hear from you.