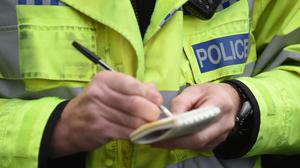 Maria Arpa
This week
Not funny
Plus…
Maria's Midweek Mindfulness 
and
The Wednesday Whisper
Trusting the police
This week it come to light that 5 officers in Hampshire police were fired for making racist, homophobic and sexist remarks within their team as normal banter. They were secretly recorded after a whistleblowing complaint. Prosecutor Jason Beer QC said that although the recording only lasted 24 days the investigation uncovered 'enough racism and sexism to last a lifetime'. And, it doesn't take much research to find more of the same in the UK police service. It is 28 years since Stephen Lawrence was killed in a racist attack and over 20 years since the public enquiry in which the police were found to be institutionally racist so it's hard to hear that changes have not truly been a success.
Now, don't get me wrong, I have had many dealings with the police as part of my work and it is true to say that at the individual level, there are absolute heroes and stars of public service who go above and beyond to be of service. However, I too have been subjected to sexist behaviour.
In 2010, I was called to a meeting at Harlesden Police station for what I thought was a meeting about Restorative Justice. It turned out the meeting was with a group of officers, one of whom, tore me off a strip in quite a threatening way for resolving a local issue using Restorative Justice and depriving him of an arrest. When I arrived at the station I was offered a cup of tea. As the group of 4 male officers sat at the meeting table, I was given the tea in a mug with a picture of a fully clothed woman on it. What I didn't realize was that it was a heat changing mug which meant the hot tea changed the picture and the woman's clothes came off revealing her as naked while I was drinking it. When I confided in a senior officer about what had happened, he laughed and thought it was funny with no thought at all for how intimidating it was to find myself faced with 4 male officers, being shouted at and laughed at as a woman and voluntary sector partner and local resident.
Maria's Midweek Mindfulness
How I come to terms with this topic is to remember that humour can be defence mechanism that helps to buffer overwhelm so, in stressful occupations such as policing, I understand the necessity for letting off steam through humour. How we choose our humour and what we imagine to be funny is critical and requires absolute scrutiny when used in a public service where powers of enforcement are invested in the workers. If police are to be trusted, they must maintain the highest standards of integrity and self discipline. There is too much at stake for it to be any other way. And while it's important to investigate and remove those who cannot maintain those standards, it's also important to use dialogue, facilitation and mediation to educate as an ongoing model for culture change in an organization.
The Wednesday Whisper
Do you use humour as a defence mechanism? If so how? Does it work?
If you like this blog, please share it far and wide
A heartfelt request – back in lockdown, our charity shops are closed – please consider donating to the charity as we try to recover losses of Covid Restrictions due to the closure of our charity shops