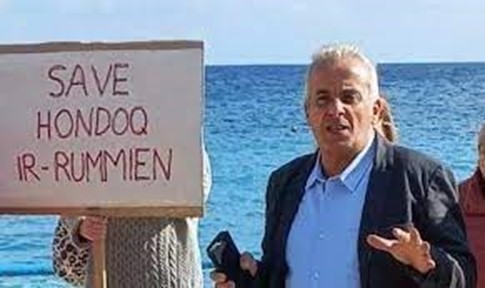 Maria Arpa
This week
3 years later
Plus…
Maria's Midweek Mindfulness 
and
The Wednesday Whisper
A testament to perseverance and sacrifice
Three years ago on November 19th, 2019 I wrote a blog called 'Proud to be this man's friend'. In it I wrote about my friend Paul in Gozo and his tireless campaign to preserve the local environment.
https://centreforpeacefulsolutions.org/proud-to-be-this-mans-friend/
Since then an appeal was launched to overturn the refusal of a permit to develop an area of outstanding natural beauty into a concrete development which would destroy this natural coastline.
On Thursday, the appeal was quashed and Paul's perseverance, determination and authenticity has shown us all that with tenacity and transparency it is possible to speak truth to power and be heard.
Paul has sacrificed much to preserve the land. Even when his own labour party turned against him, even when he was offered bribes, even when locals with a stake in the development worked hard to discredit him, his ability to stand on integrity and honesty has been a masterclass.
And it's not over yet. He plans to campaign for the area to be turned into a National Park so that everyone can enjoy the views for free without having to spend millions on a property with a balcony.
Maria's Mindfulness Moment
As someone who understands perseverance, I am in awe of Paul and his monumental calling to preserve the environment.
The Wednesday Whisper
What do you stand for? Have you ever taken a stand?
In 2023
As you probably know, for the last 4 years I have run a one year Dialogue Road Map Training for a select group of people.
This is a rare opportunity to learn how to facilitate, mediate and run restorative circles both as a professional practitioner and for personal development.
For 2023, I am looking for a small group again, apply here
Live Videocast with Organisational Dynamics here